…Becoming an artist is something I have been destined to become. This is not a hobby or a phase, rather it is a way of life that allows me the ability to translate, my emotions, my experiences and my creativity onto the canvas. I paint from within myself using no visual aids or reference material,  as I feel the only true reference point is located in your heart……. paint what your eyes see and it's a copy….…paint what your heart sees and it is pure… Bright and vibrant colors are a common characteristic throughout all the different mediums I use. I believe that art work needs to have a presence and I create each piece as it is the focal point of its room.


biography: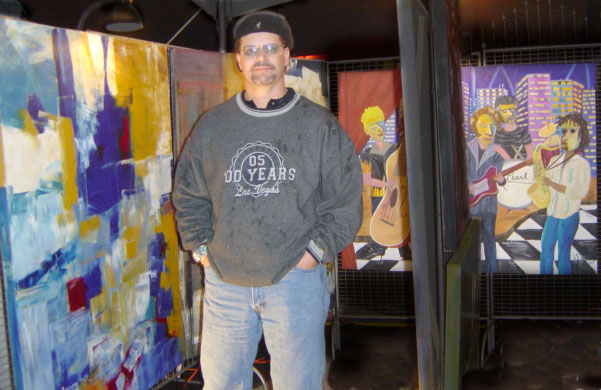 james donohue was born in Boone, Iowa in 1961. He attended Winona State University where he studied Business Administration and Healthcare Administration. james left the university studies in 1984 and spent the next several years working, traveling and studying the great painters in Paris and western Europe.
james moved to Las Vegas in 2000 with his wife Sieglinde and his son Sean where he has been working and devoting his life to his craft. He works out of his studio home in Centennial Hills. – since I enjoy creating  large scale abstracts, the incredible wall space we have makes for very cool home gallery……
He originally started showing his art publically on the streets of Las Vegas through the city sponsored "first friday's", a monthly event sponsored by the city of Las Vegas designed to promote emerging artists and supporting the arts community.
2014-  Featured artwork on comedy TV series "Sin City Saints", starring Tom Arnold and Rick Fox
 2014- Eklectica  gallery,  Arts Factory,  Las Vegas, NV , resident artist
 2012– Summerlin Arts Festival, juried show, October 13-14, 2012, Nancy Higgins curator
2012- Winter Solstice, Juried Show, Yellow Tulips, Second Award Winner, G.K Franz Curator, Las Vegas, NV
2010- Reggae in the Desert, solo exhibition, las vegas, nv  city government building
2009– art of james gallery, southern nevada museum of art- las vegas, nv
2008– neonopolis,  freemont st.  southern nevada center for the arts, "matters of abstraction", Studio7
2008– "spring stylings" exhibition, art bar, las vegas, nv, curator jesse garon
2008– henderson health care and rehabilitation center- permanent collection, henderson, nv
2007– mc asian furniture and contemporary art design studio- richard wong, curator, las vegas, nv
2007– mastercraft modern furniture and art gallery- bennie lin curator, las vegas, nv
2006– mastercraft modern furniture and art gallery- bennie lin curator, las vegas, nv
2005– 100 years 100 artists show- las vegas, nv
2005– 17th annual juried CAC las vegas art show, las vegas, nv
2004– new york city arts festival- las vegas- second runner up
2004-2007– numerous "first fridays"- city of las vegas,  las vegas, nv
Associations
Member of Las Vegas Artist Guild
Member of CAC